Very Narrow Aisle Racking
Very Narrow Aisle Racking provides a significant reduction in floor space and reduce costs of warehousing.

Pallets in very narrow aisle racking are 100% selective, and access to stock is uncompromised and the amount of products stored in the warehouse is maximized. It is an effective method of increasing pallet storage within a given area.

It is a good solution for those who are looking to add storage space to their warehouse without physically adding the area space. By reducing unnecessary aisle space, you can make more rows of racks. A narrow aisle racking system enables you to set up high-density storage by making better use of your area space and height. This system is suitable for a particular warehouse with a high ceiling.

Dimensions
of Very Narrow Aisle Racking
Typical aisles:
10.5 feet wide or more (126 inches +)
Narrow aisles:
8.5' - 10.5 feet wide (102-126 inches)
Very narrow aisles:
5-7 feet wide (60-84 inches)
FEATURES
of Very Narrow Aisle Racking
Accessibility to individual pallets up to 100%, Better utalization of space, Lower occupancy rates per pallet stored
Advantages
of Very Narrow Aisle Racking
Ideal for lower-throughput items and bulk reserve storage
Suitable for high-bay applications
Minimises aisle width and increases net area utilisation
Save on potential building costs to create extra storage in small area
Provides options for automates storage and retrieval system (ASRS)
100% selective pallet rack
Design for flexibility, immediate access to every pallet load
► Heavy Duty Pallet Racking System
Heavy duty pallet racking system is specially created for loads up to 3 tonnes. It is a material handling storage system designed to store materials on pallets. Although there are many varieties of pallet racking, all types allow for the storage of palletized materials in horizontal rows with multiple levels.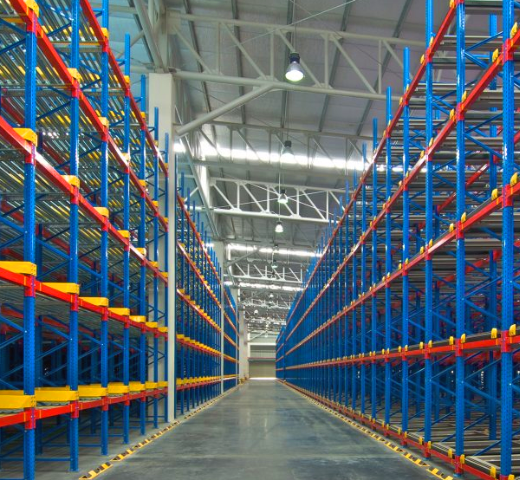 Selective Pallet Racking System
Accessible to all products at all aisles
Flexibility in adding or reconfiguring storage
Lower Forklift Pallet Handling Costs
Cost effective racking (per square metre)
FIFO ensures SKUs can be turned over effectively
Able to access large range of Stock Keeping Units (SKUs)
Able to store a wide variety of products (different SKUs)
Selective Pallet Racking System
Double Deep Racking
Suitable for high-throughput stock (max. of four rows can be placed back to back)
Double Deep Racking is 2 pallet deep configuration pallet racking
Easily relocated and easily converted to and from single deep system
Easily adjusted or relocated at any time, or even added to
Increase up to 40% more storage capacity than selective pallet racking
Eliminate the need for renting or building new storage space by increasing cubic space
Increases floor space utilisation by up to 55%, eliminate unneeded aisles and release storage space
For companies that have limited variety of products in large quantity
Double Deep Racking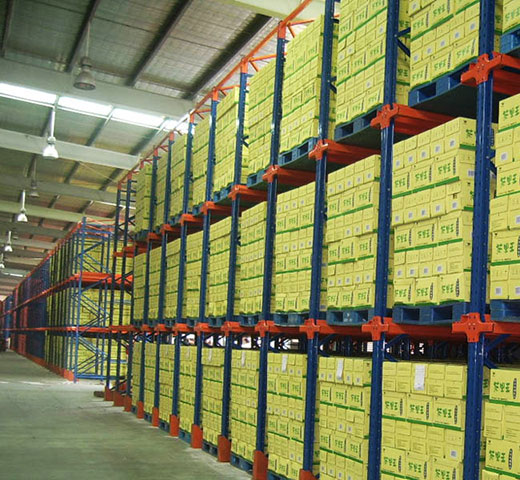 Drive-in Racking
Rack uprights in a range of widths, depths, and thickness
Heavy-duty bracing
Increased storage space
Fewer aisles
Depth of system virtually unlimited
Maximise pallet storage
Cant-leg or set-back leg designs can help defend against forklift damage
Drive-in Racking