Heavy Duty Mezzanine
Rack & Save PTE LTD Heavy Duty Mezzanine floor is a great way to optimize the storage capacity of your warehouse or office. Our mezzanine floors can be effectively installed into any space to fit seamlessly into a warehouse, office, production or retail environment.
Heavy Duty Mezzanine floor installation is quick, clean and easy. Custom designs fit any existing warehouse layout and budget. Compatible with a variety of shelving or storage systems. The versatility of Mezzanine and its components allow for the addition of storage space, changing rooms, offices, and more to existing or new spaces.
Dimensions
of Heavy Duty Mezzanine

Size vary according to the site dimension


FEATURES
of Heavy Duty Mezzanine
Accessories such as stairs, hand rails, vertical lifts, gates, and security cages can be incorporated to improve safety and facilitate product movement from one floor to another. The wide range of sizes, floor types, and construction systems mean that Mezzanines can be adapted to meet any specific need
Advantages
of Heavy Duty Mezzanine
Optimise storage and floor space
Cost and time effective in moving premise
Can be constructed over large machinery and other obstacles
Create extra work and storage space
Add/match existing mezzanine floor levels
► Mezzanine
If you're looking for a flexible, cost-effective solution to your storage problems, you should definitely choose to have a mezzanine. Our Mezzanine is very easy in adding storage space which can keep your current warehouse or distribution center longer for years. Rack & Save mezzanine is an intermediate floor in a building which is open to the floor below. Our mezzanine does not count as one of the floors in a building, and generally does not count in determining maximum floor space. Rack & Save Mezzanine may serve a wide variety of functions. Industrial mezzanine, such as those used in warehouse, may be temporary or semi-permanent structures.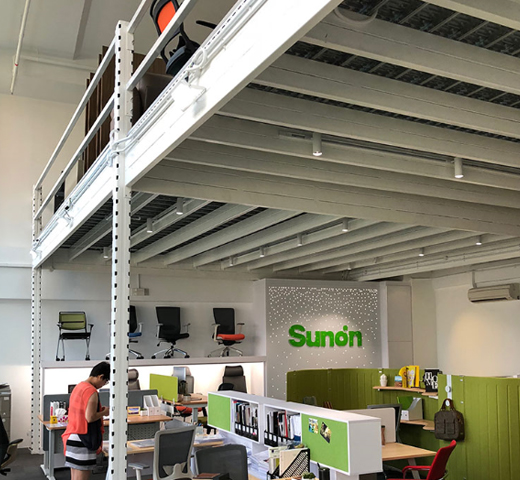 Superblock Mezzanine
Optimise warehouse space
Custom-made, manufactured from detailed drawings and tailored to your needs
Additional of single multi-layered mezzanine floor can accommodate conveyor systems, while other floors can be used to store, manage and dispatch products
Mobility for bulky storage
Super Efficient installation and dismantling
Cost effective for lease unit   
Having office below the structure is approved by authorities
With Gross Floor Area (GFA) exemption
Superblock Mezzanine
Rack Supported Platform
Economical Solutions
Efficient for handpick Items
High-density Storage
Custom-engineered to your needs
Stock rotation – friendly
Fire protection system, electrical fittings can be integrated
Easy access to all products – 100% selectivity
Optimise use of space (area and height)
Rack Supported Platform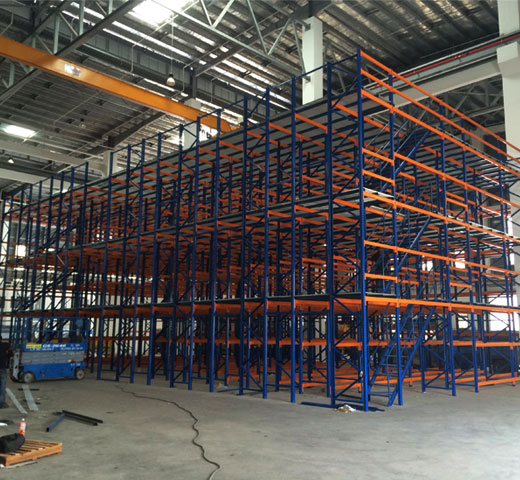 Multi-Tier Shelving
Optimise use of warehouse height
Able to accommodate a range of shelving systems
Economical use of floor space
Access to all references from aisles
Multi-Tier Shelving